PERSONAL TRAINING
THE FASTEST ROUTE TO THE BEST RESULTS
Whatever it is that you're trying to achieve, Personal Training is the best way to do it.
Whether you're wanting to lose weight, burn fat, build muscle, increase your strength & fitness, fine-tune a specific lift or improve your boxing skills – one-on-one training will provide you with everything to ensure you reach your goal.
Our team of trainers all have an extensive background in health and fitness and include both professional boxers and professional bodybuilders who will help you reach your goals, with guaranteed results.
Our well-equipped private studio and boxing gym in Coorparoo creates the perfect environment to train safely and effectively with the support and guidance of our experienced trainers.
NOTHING WORKS BETTER THAN PERSONAL TRAINING.
"I have been training at Brickhouse for a while now and have never looked back! It was a game changer for me to be able to join a gym with such a strong community, where both trainers and members support and encourage you on your fitness journey. I have learnt so much from my PT, to ensure that I am using correct form to avoid injury. Thanks for everything Brickhouse!"
"Thanks for creating a gym with a cracking membership base and trainers that make it a place you look forward to coming to. Makes it easy to turn up and unleash beast mode!"
"I cannot recommend the Brickhouse Gym Family enough. They have managed to build an amazing and extremely supportive community of trainers and gym goers. I have never really enjoyed the gym until I was introduced to this place and now I sincerely enjoy going. It's hard work but somehow they make it fun. Do yourself a favour and give these guys a try! Fit and healthy feels good, but it feels even better when you are working with an amazing group of people!"
"I love this place. Great vibe, really good mix of gym classes, awesome coaches and happy people."
"The only gym I'd want to train at. Jarrett and Beeny and their crew of trainers are all such positive, friendly and knowledgeable people. Their personalities are infectious so it's always a lot of fun jumping in on classes or doing one-on-one sessions. The trainers take a genuine interest in you and your goals meaning you don't just feel like another number, you're part of a team."
"Literally the best environment to train in. Trainers are amazing and no matter what level you're at they will keep helping you improve. Come on down and get behind an honest, down to earth local business!"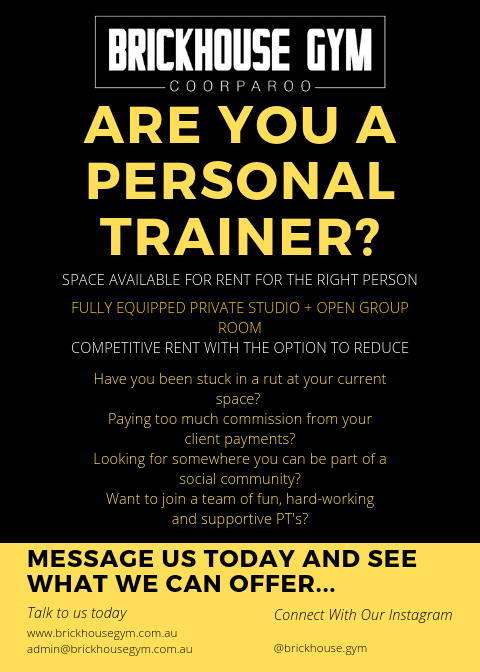 SIGN UP FOR YOUR FREE
10-DAY TRIAL!